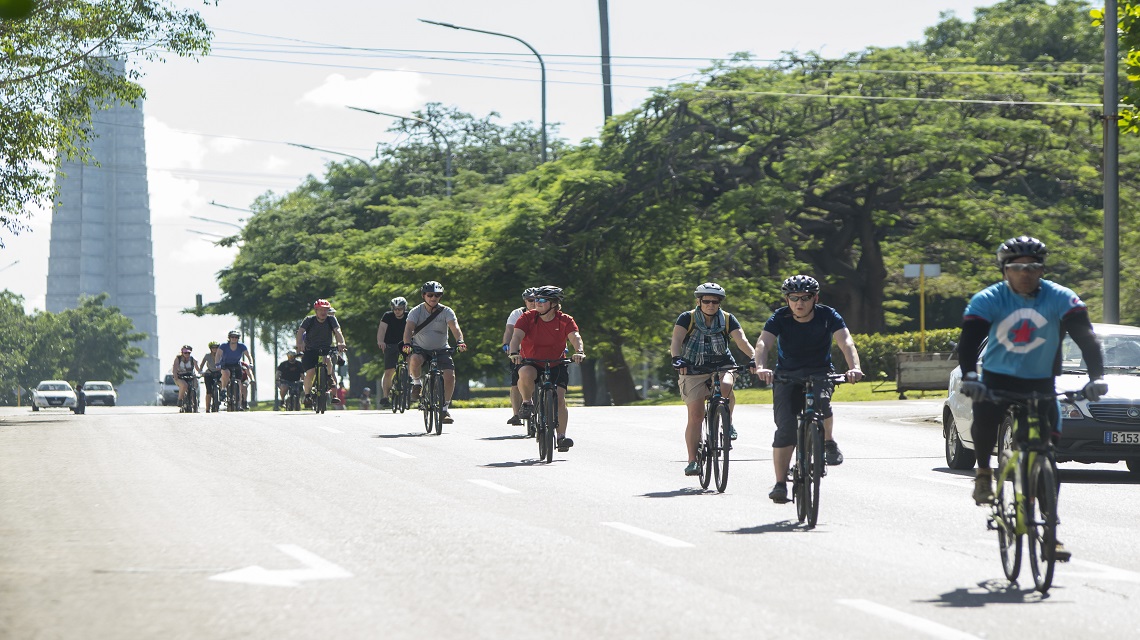 Tour's Description
A two week cycling holiday discovering the culture, natural beauty and Revolutionary history of Western and Central Cuba.

Itinerary
1 Day

Day 1 (ARRIVAL IN HAVANA)

Welcome to Cuba! A representative will meet you upon arrival in Havana before transferring to the start Hotel. The largest island in the Caribbean, Hemingway's much-loved abode and one of the last planned economies in the world. You're soon to discover that Cuba is all that and much, much more, but first sit back, relax and enjoy your first night in enchanting Havana.


1 Day

Day 2 (BIKE FITTING AND CITY TOUR)

This morning we start by getting acquainted with our bikes before setting off on a panoramic tour of Havana. We'll visit the well-to-do 1950s Miramar district, home to some of Havana's most striking 20th century architecture. Keep an eye out for the imposing Russian embassy and the elegant neoclassical homes, many of which are now embassies. We'll then cycle through Parque Metropolitano de la Habana and Nuevo Vedado (home to Havana's middle classes), before stopping at Plaza de la Revolución, the hub of the Castro regime. From here we wheel through young and vibrant Vedado towards the famous Hotel Nacional, which has offered shelter to many a celebrity over the years, including Winston Churchill and members of the Mafia. Now we whizz through bustling Centro Habana to the famous Capitolio building, a mirror-image of Washington's Capitol Building. With the Capitolio behind us we veer left down the regal Prado promenade, a favourite with street artists and skateboarders alike. We finish the cycling portion of our tour in Plaza de las Armas. From here we continue on foot to discover Old Havana's four beautifully renovated colonial plazas and stop for lunch in a local restaurant. After lunch, we cycle back to our hotel along Havana's romantic Malecón, a sea-wall that follows the city's entire coastline. Enjoy this evening at leisure.

1 Day

Day 3 (TO LAS TERRAZAS ECO-COMMUNITY)

Today we wave goodbye to the hustle and bustle of Havana and head west to the calmer climes of Pinar del Rio Province. Once we're outside the city limits we'll saddle up and ride around 40 km through gorgeous tropical scenery to the "Las Terrazas" Biosphere Reserve. Upon arrival we'll have lunch and then explore this fascinating eco-resort, once home to one of Cuba's best loved musicians, Polo Montañez. Have a go on Las Terrazas' famous zip-line and take a refreshing dip in the Rio San Juan. Las Terrazas is an enchanting place, but don't fall for it too hard as the only way to join this eco-community is through marriage! Enjoy an evening at leisure in this beautiful Biosphere Reserve.

1 Day

Day 4 (TO SAN DIEGO DE LOS BAÑOS)

After breakfast we'll be driven to Soroa, home to Cuba's national wine, where we'll saddle up for the day. From Soroa we make our way along the old Havana-Pinar del Rio road through farmland and charming colonial settlements to San Diego de los Baños. Once famed for the healing properties of its waters, San Diego de los Baños is now a sleepy backwater formed of pretty squares and colonial buildings. After a late lunch in this slow-paced town we'll be driven to Pinar del Rio, the capital of Cuba's cigar country. Enjoy the evening at leisure.

Today we'll be exploring the best tobacco-growing region in the world. We'll begin by riding from Pinar del Rio through the small village of San Luis with its imposing colonial church, before turning left towards San Juan where we'll visit Alejandro Robaina's tobacco farm. Robaina's legendary harvests earned him a reputation as one of Cuba's best tobacco farmers, often referred to as "the Godfather of Cuban tobacco". In 1997 Habanos, the state tobacco company, honoured Robaina by naming a new line of cigars after his farm. After visiting Vega Robaina we cycle along country roads to La Guabina, a lakeside cattle ranch with its own small hotel and restaurant. Enjoy a typical Cuban meal in La Gaubina's traditional ranchon. After lunch we return to Pinar del Rio by bike or bus before transferring to Viñales, a rural valley many consider the most beautiful in Cuba. Tonight we'll be staying in local casa particulares, where your hosts will prepare you a delicious homecooked dinner. Despite being a quiet country retreat, Viñales has several venues with live music so if you wander out tonight you're sure to find somewhere to hear some local musicians.

1 Day

Day 6 (TO CAYO JUTÍAS)

Today we cycle from Viñales to Cayo Jutías (via Pons), a 3km-long white sand beach with idyllic turquoise water. Lie back on the sand, bask in the inviting shallows, or discover the cayo's underwater life on a snorkelling or scuba diving trip (not included and subject to availability). We'll lunch on the beach and soak in more of Cayo Jutías' delights before transferring back to Viñales for the night.

1 Day

Day 7 (DRIVE TO SANTA CLARA)

Leaving Viñales town in the morning we have a long travel day today as we head eastwards to Central Cuba. Today's journey could take 6 hours in total. We'll have a packed lunch and make some stops along the way, with our guide keeping us entertained with Cuba themed videos and a question session! Arrival in the historic city of Santa Clara where we'll check in to our hotel for the night.

1 Day

Day 8 (TO TRINIDAD)

This morning we visit the Che Mausoleum, a giant memorial and Che's official resting place since his remains were brought to Cuba from Bolivia in 1997. Located on Santa Clara's impressive Revolution Square, this impressive mausoleum embodies the Cuban revolution and its legacy. From Santa Clara we head to beautiful Topes de Collantes, a natural park in the mountains above Trinidad de Cuba dotted with magical waterfalls and cool pools. You might like to stop for a dip as we go for a walk (approx. 2 hours) on the "La Codina" trail. After a traditional lunch at the hacienda Codina we head downhill to the charming town of Trinidad, a World Heritage Site and the jewel in Cuba's patrimonial crown. Tonight we'll be staying in casas particulares. Accommodation is simple but rooms are clean, with air conditioning and en-suite bathrooms. Enjoy a delicious home-cooked meal at Casa de Alberto before heading out to explore Trinidad's vibrant nightlife.

1 Day

Day 9 (TRINIDAD & PLAYA ANCÓN)

This morning we'll have a short and easy ride to the nearby beach at Playa Ancon. After time for a dip in the sea we'll return back via a different route to Trinidad for midday. This afternoon will be at leisure in beautiful Trinidad. Have a stroll around the cobbled streets, visit some of the town's many museums and breathe in the special ambiance of this perfectly-preserved colonial market town. Ask your guide for tips and advice, or for help booking any activities.

1 Day

Day 10 (TO CIENFUEGOS)

Home to more than 2000 different plant species, the garden has a collection of over 300 types of palm tree. After lunching in the botanical gardens we transfer to Cienfuegos, Cuba's "Pearl of the South". Home to Cuba's Bolero star Benny More, Cienfuegos is renowned for its stylish French architecture and its mini malecon, a seawall that goes all around the city's bay. After a quick orientation tour of this world heritage city we'll check in to our hotel for the night.

1 Day

Day 11 (TO BAY OF PIGS)

Waving goodbye to Cienfuegos, we transfer inland to the small village of Navarra where today's ride begins. Today we'll have a variety of experiences as we cycle through the Zapata Peninsula, a vast marshland home to Cuba's most important bird species and world-renowned as a UNESCO Biosphere Reserve. We'll stop for a break at Playa Giron, one of the beaches where military forces landed during the Bay of Pigs attack, the failed CIA-backed invasion of Castro's Cuba in 1961. After a bit of history, we'll get back on our bikes for a short ride to our lunch stop at Caleta Buena. Enjoy your midday meal overlooking Caleta Buena's natural sea pool. After lunch we'll transfer to Playa Larga, a beautiful beach that also hosted hostile forces in 1961. Tonight we'll be enjoying local hospitality in casa particulares.

1 Day

Day 12 (RIDE IN MATANZAS PROVINCE)

This morning we start with a transfer to Jaguey Grande, a small town on the north side of the national motorway. It's here that we saddle up and start today's ride through citrus plantations and the small town of Pedro Betancourt (named after a revolutionary major-general in the Cuban war of independence) to our lunch stop, Finca Coincidencia. Finca Coincidencia is a charmingly eccentric organic farm in the heart of Matanzas province where you can gorge yourself on the farm's varied produce served in ceramic dishes made by the farmer himself. After lunch and a poke around this fascinating farm we transfer to the province's capital, Matanzas. "The City of Bridges", the streets of Matanzas span three different rivers, earning it a reputation as the Venice of Cuba. It has also been called the Athens of Cuba because of the many prominent writers and poets it has produced. Not only this, Matanzas is also the birthplace of two Cuban dances, Rumba and danzon, as well as several religions of African origin, making it a vital contributor to Afro-Cuban culture. Though most holidaymakers by-pass Matanzas on their way to Varadero, this small city has plenty to offer.

1 Day

Day 13 (TO PLAYA JIBACOA)

This morning we'll be getting straight on our bikes and climbing out of Matanzas. Though we may encounter some traffic on the first stretch of our ride, its gets a lot quieter once we turn off at the small town of Ceiba Mocha. From here we ascend the Picadura Valley with gorgeous views, we might stop at one of the small villages along the way to snack on fresh tropical fruit. Our ride ends at the beautiful Jibacoa beach where we'll stop for a bbq lunch, all-inclusive drinks and of course a dip in the sea! After a relaxing afternoon at the beach we will transfer back to Havana in time for a night out.

1 Day

Day 14 (FREE DAY IN HAVANA)

Today you have a free day in Havana. Why not explore Old Havana on foot; it is full of colonial charm and the streets are buzzing with activity. Walk up the famous Malecón coastal road and visit the gardens at the emblematic Hotel Nacional. If you're worn out from your 2 weeks of cycling, you can buy a day pass to relax by the hotel pool (optional). This evening enjoy some of Havana's world-famous live music dance venues or cabaret shows. Ask your guide for their recommendations.

1 Day

Day 15 (DEPARTURE DAY)

The morning is free for last minute sight seeing or shopping. Check out of your accommodation at midday, so it's Adios, or, as we prefer to say hasta luego, see you later! Afternoon transfer (30–40 minutes approx.) to Havana airport. Have a safe onward journey and we very much hope to see you in Cuba again soon.